Had some issues with my Nissan Primera P12 today, while someone was helping me hack a bit my reverse light, he kinda caused a short circuit and blew up the reverse light fuse, after some time searching around, couldn't find the proper fuse, i ended up having to pull out everything and figure this out. Anyways to prevent someone else to search for this, here's a pic of which fuse it is.
Note, it seems when a fuse is not working on this car, it sounds like battery is low when you try to start the car in neutral, once it powers up, when you try to shift gear one, the car just shuts off! I hacked the fuse with a 10a wire and well its working now. Change the fuse when this happens.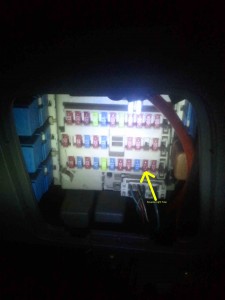 Note, the fuse box is located somewhere under the steering wheel.
Cheers selven.